What's New?
Hatred and Prejudice
Christians everywhere are appalled by the shocking murder of individuals in the name of religion. We at St Ursula's are particularly moved by the terrible events in Christchurch last week. He have several people from New Zealand in our congregation, but in particular we have welcomed the ministry and fellowship of Canon Professor Douglas Pratt, who teaches at the University here, whose home is in Christchurch.
Douglas' field of study covers Christian-Muslim relationships, and this is also a field in which David Marshall, Helen's husband, specializes for the World Council of Churches. You can find an article Douglas has written for a New Zealand news site here.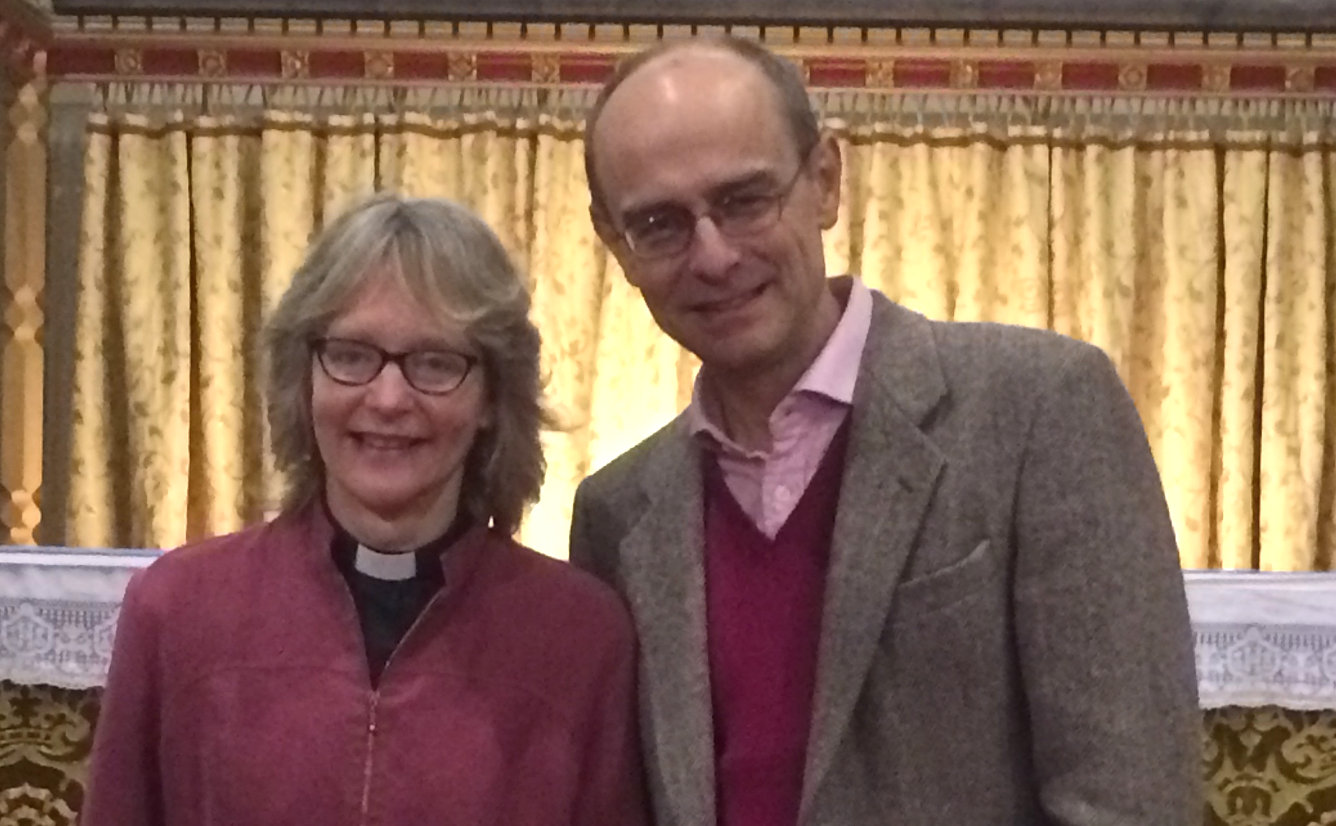 Our new Chaplain
We are delighted to welcome
the Reverend Helen Marshall
as our new chaplain.
Helen took up her duties at the beginning of March.
Click here for a short introduction from her.
Since Stephen Stuckes left us in July 2018, we have been admirably served by a series of locum chaplains. We are deeply grateful to John Clasper, with Dorothy, to our archdeacon Adèle Kelham, to Michael Tristram, with Pat (and Millie!) and to Ian and Caroline Eglin for their support.
Penitence
The season of Lent began on 6 March - Ash Wednesday. We are holding a four-part Lent course, led by Helen, exploring the nature of penitence, repentance and renewal. It is on Mondays at 1830 (following Evening Prayer at 1800), repeated on Thursdays at 1115 (following the Eucharist at 1030).
... and Pancakes
The season of Lent began on 6 March - Ash Wednesday. The day before was Shrove Tuesday, and to make the most of life before the self-control of Lent, we had our regular Pancake Party accompanied by the traditional (fiendish!) quiz to test your pancake knowledge. To limber up, here are the quizzes from 2012, 2013, 2014, 2015, 2016, 2017 and 2018.
An Eco-Church
We are committed to the Church of England's environmental campaign, Shrinking the Footprint, which aims to make church members more aware of their place in the world around us. It also aims to reduce the church's consumption of non-renewable resources, and specifically to cut carbon emissions by 60% by 2050, making our activities greener.
And our diocese is seeking to become an eco-diocese, and we are signing up to support them in an attempt to be an eco-church.
We are well over half-way there, but we need to do more to raise people's awareness in the congregation, and to encourage them to participate more fully. If you can help in this, contact Cecily Klingler or Hector Davie, or any Council member. And if not, keep an eye on our notice boards! You'll be hearing a lot more about this.
Taking Care of our Church - Our Technical Committee
With the close of our renewal and energy project, we have been left with improved premises, and with some sophisticated equipment. Hans Goepfert, with Edi Wildhaber and Rolf Klingler from the energy team, has been joined by Tony Read and Jack Kolb to form a Technical Committee to look after our infrastructure. They will also be on hand to assist with the audiovisual system at church services and to give advice on technical matters.
They can be contacted by email, or using their dedicated mobile number, 077 472 20 60. They offer support between 8 in the morning and 8 in the evening, seven days a week, and aim at a one-hour response time, though this cannot be guaranteed!
If you find anything that is out of order, or not working the way you think it should, give them a call. And if you spot something that could be improved, tell one of the committee members. We hope that this will provide an improvement on the former arrangement for noting faults on a sheet of paper.
Some Spiritual Help
Clare Amos, the Diocese's director of lay discipleship, has been working on a Rule of Life for Anglicans in Europe, developed originally in the Diocese of Auckland in New Zealand. It is based on the experience of the disciples on the Emmaus Road, and more details will be on the diocesan website for the start of Lent.
However, not many people realize that the Diocese has a blog based on the weekly readings in the lectionary, commenting on them from a European perspective. This is at faithineurope.net and is well worth taking a look at.
And while you are surfing, what not take a look at Setting God's People Free, the Church of England's "programme of change to enable the whole people of God to live out the Good News of Jesus confidently in all of life, Sunday to Saturday." This is a good introduction to Christian living, too.
Tidying the Church
We have sorted and tidied a lot of things in the church, hall and house in a spring clean, as part of our preparations for Helen and David's arrival. A new storage concept has been produced, and there is a place for everything. If you are not sure where something is, or where it should go, ask Jana or a council member!
Tidying our archives, we also came across some old Junior Church pictures from 1996 - do you recognize anyone from their Pentecost Activity Afternoon, Tear Fund Activity Afternoon or Advent Workshop?
Having your Say
The church's AGM will be held on 31 March 2019. Everyone is welcome, but only people on the Electoral Roll may vote.
To be on the roll, you must be 16 or over, and to have worshipped at St Ursula's for six months - or to have been on another Anglican parish's electoral roll.
For 2019, the electoral roll has to be entirely renewed. This means that if your name was on it before, you need to reapply. (It's General Synod that makes the rules!)
So please reapply as soon as possible, and in any case before 3 March 2019. There is a form in the magazine, there are forms in the church hall, or you can find a form here (one person / two people). Do it today, and give your completed form to Tricia Carrick, our Electoral Roll Officer, or to the Administrator, or to any Council member.
Weekday Services
We have been holding Morning and Evening Prayer for some time now, following the order in Common Worship. We hold Morning Prayer at 0800 and Evening Prayer at 1800 on Mondays, Tuesdays and Fridays. Everyone is welcome to these quiet, reflective times of prayer. The prayer time lasts no more than half an hour.
You are very welcome to come along and take part.
You will find the order of service using the links above, or better, by downloading the Church of England's free Daily Prayer app from iTunes or Google Player.
Anyone can lead these short prayer services and it's easy to learn the few basic skills you need to do so – the necessary training will be provided! Please get in touch with Maxine Wildhaber if you would like to help us sustain our prayer life at St Ursula's.
On Thursday mornings at 10.30 there is a chance to follow fellowship at the Eucharist with cake and conversation. Several people like this format, and we hope it will continue.
And on alternating Thursday evenings, there is always the chance of joining church members in the Thun area for their evening session of eucharist, reflection and fellowship.
Thun
We have held services in Thun for many years. They have always been on Thursday evenings, and for a long time were in rather a remote part of Thun.
Last year, we moved to the Chapelle Romande (the French Chapel) at Frutigenstrasse 22, less than five minutes' walk from the station. (You can see some pictures of our first service in the Chapelle Romande here.)
Everyone is welcome, and you can be assured of friendly company and a short and meaningful service. Many of the congregation follow it with a time of fellowship and refreshment. There is a flyer here - print one out for a friend! Click here for details of the next few services. Details of how to find us can be found here.
Gardening
Gardens never stop growing, and at this time of year they still need tidying up! There are gardening parties throughout the summer. If you are able to help at any time, please get in touch with Edi Wildhaber, who is coordinating activities.
Water, water, Uganda
We and our Junior Church have been taking a keen interest in a project to bring clean water to villages in the Kigezi diocese in Uganda. Some of our church members have been to the area and helped with the work, and he have dedicated our Harvest and Christmas collections to the plan, which is also supported by Tear Fund Schweiz.
Biel/Bienne and Neuchâtel
There are also English services in Biel/Bienne. Services are held at 1700 on the first and third Sundays in the month at the premises of the Salvation Army (Heilsarmee), Dufourstrasse 46, 2502 Biel. The church has its own website, biel-english-church.ch, which gives more information.
The Anglican congregation in Neuchâtel also have their own website.
Money, money, money
Many of our members pledge to give a regular sum to support the church. We receive no state support, and have to finance the ministry here ourselves. There is still time to add to the growing number of people who pledge to the church. You may fill in a form (there are several in the church hall) and give or send it to the Treasurer. Trying to move with the times, we are also introducing the possibility of pledging "on-line" - the pledge page on our website has details. We hope that paying on line will come later (paying by Twint is already enabled). In any case, every rappen is appreciated!
Refugees
As an English-speaking church in a German-speaking land, we have few direct contacts with the flood of refugees who come from the Middle East. We donate money to our sister congregation in Athens, who are directly involved in the hardships there. We give to specific projects run by Refuge Egypt, Tear Fund and Partner Sein, and other charities which are directly involved in this problem.
In addition, we are supporting an Afghan family locally, whose status is still in the balance. We would value your prayers for them.
Books for our Book Sales
Our book sale team have produced some notes on how you can help them by bringing the right kind of book, and not bringing the wrong kind of book. You can read their notes here.
Our Library
The library is open most Sundays after church during coffee time, and everyone is welcome then to browse or to borrow. You can see the catalogue here.
Breakfast at Church
Since 2014, we have enjoyed a church breakfast on the first Sunday of the month. We provide the food (cereals, fruit, juice, yoghurt, croissants, bread, tea, coffee), you provide the company.
Around a dozen people normally turn up for these regular breakfasts, which have been greatly appreciated. There are some pictures on our Picasa site.
Our next breakfast at church is on 7 April. See you there?
Facebook
There's up-to-the-minute news as well on the church's Facebook site. Take a look!